Built-ID's gold medal goes to …
Today marks the beginning of the Winter Olympics and we are looking forward to watching some of Built-ID's favourite sports; snowboarding, skiing and skating throughout the month of February. As we gear up to watch in the office, we've curated some inspiration of where we'd rather be curled up watching, after practising our own winter sports skills. These are Built-ID members who have truly mastered alpine chic, designing schemes to keep you cosy and to maximise the stunning views that surround. 


Chalet Zermatt, Switzerland
Chalet Zermatt – Philip Watts Design (Click image to see more)
Chalet Zermatt Peak is a luxury chalet set in the heart of the exclusive area of Zermatt, Switzerland. The chalet is traditionally designed by Philip Watts Design with minimal wooden design throughout and with floor to ceiling windows, giving it extensive panoramic views of the busy slopes. Guests can relax in the spa and sauna and unwind in the gym after an energetic run down the mountains.


Mountain Hotel, Frønningen
Mountain Lodge – Haptic Architects (Click image to see more)
Inspired by the traditional Norwegian Tun, Haptic Architects has created the amazing Mountain Hotel in Norway's Sognefjord. A collection of five buildings overlook a central courtyard in the hillside and the secret apartments delve deeper into the rock to reveal amazing spaces, such as a pool with natural slate walls from the mountain and glass windows looking over the valley. The simple and natural palette of materials harmonises with the stunning mountainous and forest setting.
Chalet Les Grandes Baimes, Val d'Isère Ski Resort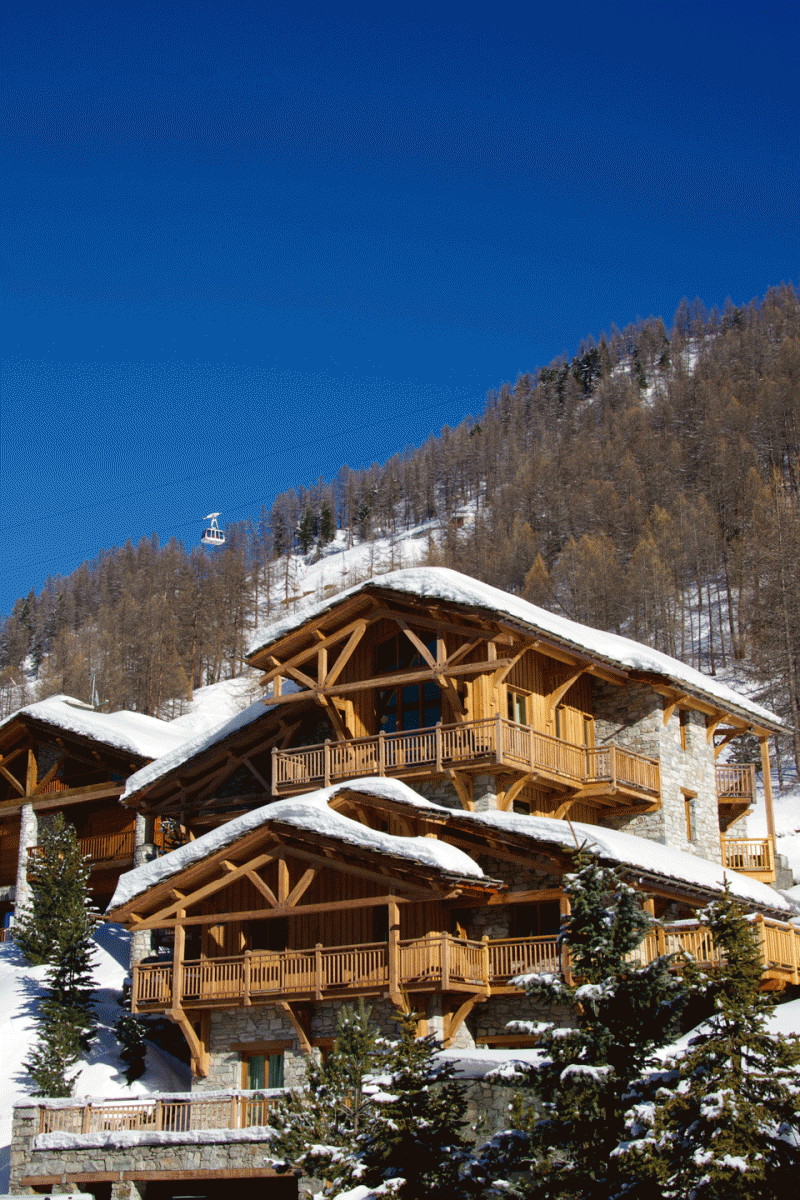 Chalet Les Grandes Baimes – Pringle Richards Sharratt Architects (Click image to see more)
This charming old chalet was refurbished by Pringle Richards Sharratt Architects. It's a mixture of Savoyard with English influence and carries an industrial edge. The 8 bedroom chalet provides an amazing retreat for a large family to gather and to get active throughout the winter months.
Valentinerhof, Saint Valentin auf der Haide
Valentinerhof – Noa* (Click image to see more)
This Italian hotel designed by noa* is a wonderful, secluded haven which transports you away from the hustle and bustle of a busy city to the tranquillity of peaked mountains and forests. This cosy retreat has a wooden exterior and amazing views of the natural landscape. Outdoor relaxation areas help you to truly detach and get back to nature and breath the fresh mountain air.
Les Étoiles Du Nord Chalet Development
Les Étoiles Du Nord – AndArchitects (Click image to see more)
This chalet development by AndArchitects uses traditional alpine materials in a controlled and natural geometry, blending the modern glazed chalets into the town and its adjacent landscape. The towering glass facade directs attention towards the wide vistas beyond.